Welcome to the RANDOM CHAOS!
---
What the Astrology Sun Signs REALLY are!
The following chart was given to me in my 100 level Astronomy course in college. The course was taught by Stan Shadick (who writes the Skywatchers calendar every year)
Constellation
Horoscope Dates
as the newspaper lists them
Correct Dates
(for year 2000)
SAGITTARIUS
Nov 22 - Dec 21
Dec 18 - Jan 18
CAPRICORNUS
Dec 22 - Jan 19
Jan 19 - Feb 15
AQUARIUS
Jan 20 - Feb 18
Feb 16 - Mar 11
PISCES
Feb 19 - Mar 20
Mar 12 - Apr 17
ARIES
Mar 21 - Apr 19
Apr 18 - May 13
TAURUS
Apr 20 - May 20
May 14 - June 20
GEMINI
May 21 - June 20
June 21 - July 19
CANCER
June 21 - July 22
July 20 - Aug 9
LEO
July 23 - Aug 22
Aug 10 - Sep 15
VIRGO
Aug 23 - Sep 22
Sep 16 - Oct 30
LIBRA
Sep 23 - Oct 22
Oct 31 - Nov 22
SCORPIUS
Oct 23 - Nov 21
Nov 23 - Nov 28
OPHIUCHUS
(not part of astrology)
Nov 29 - Dec 17
Correct dates in other years may fluctuate slightly by a day due primarily to Leap Years and other effects. The major reason that the Correct Dates differ from Horoscope Dates is due to presession. Another contributing factor is that modern astronomical constellation boundries were used to arrive at correct dates.
Most Newspaper horoscopes are several millennia out-of-date!
---
"I'm My Own Grandpa", an excellent song, as sung by the Gogolala Jubilee Jugband on the Muppet Show in 1976.
The Lyrics ... just in case you were wondering:
Now many many years ago when I was twenty-three
I was married to a widow who was pretty as can be
This widow had a grown-up daughter who had hair of red
My father fell in love with her and soon they too were wed
Oh I'm my own grandpa
I'm my own granpa
It sounds funny I know,
But it really is so
Oh I'm my own grandpa
This made my dad my son-in-law and changed my very life
My daughter was my mother 'cause she was my father's wife
To complicate the matter even though it brought me joy
I soon became the father of a bouncing baby boy
My little baby then became a brother-in-law to Dad
And so became my uncle, though it made me very sad
For if he was my uncle, then that also made him br'ther
Of the widow's grown-up daughter who was also my stepmother
Father's wife then had a son who kept them on the run
And he became my grandchild, for he was my daughter's son
My wife is now my mother's mother and it makes me blue
Because altho' she is my wife, she's my grandmother too
Now if my wife is my grandmother, then I'm her grandchild
And every time I think of it, it nearly drives me wild
For now I have become the strangest case I ever saw
As husband of my grandmother, I am my own grandpa
(And really, the whole explaination of being his own grandpa is covered in the first verse)
---
---
---
Support a Saskatoon Band! Help the Sheepdogs get on the cover of the Rolling Stone magazine! Vote above!
For more on this contest click here to visit RollingStone.com
You can buy their album "Learn & Burn" (or any of the tracks on it) on MSN Music Store here
---
---
The McQueen connection to the Royal Wedding!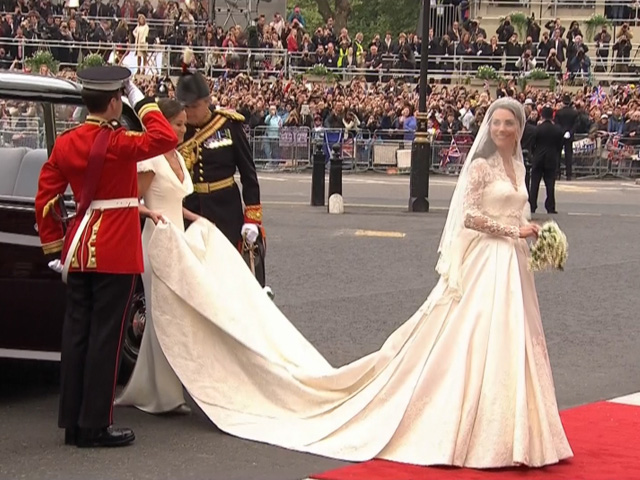 Designed by Sarah Burton for

---
A phone to save us from our phones? How does that work? Does it come with an app for a brain transplant? or perhaps an OFF SWITCH??
---
In honor of the announcement of the engagement we've all known about for the last three years:
from achievements.co.uk
---
And for a somewhat related link: www.foodincmovie.com The site for an excellent (though a bit disturbing) documentry.
---
Because the world is in love with StarBucks:

---
Genealogy Main - Pedigree Main - Credits & Thanks - Mc vs. Mac - Find How You're Related - Contact Me - My Welcome Page - Photos - My Favorite Sites